Technology
Beauty
Investment
Warranty
American
Green
Most Advanced Technology
Wouldn't you prefer to get more power from your roof with fewer panels? With much longer life, more total kWh savings on your utility bill, and the peace of mind of the best warranty in the industry? There is not just a little difference between solar brands – there's a LOT!
For starters, SunPower® is the only one to have their electrical wires on the back instead of the front. Why is that important? Because only on the back can they prevent any shading of the PV cell, and also completely fill the backside with solid copper wires.
These copper wires are thick and low resistance, which deliver module efficiency of over 22% instead of the 15-17% efficiency of conventional panels.
Our SunPower panels deliver over 360 watts apiece, vs the most common conventional ones of only 260 to 300 watts. For more details on why front-wires are a bad thing, read about our page on Beware The Wires. The real world is filled with factors that are bad for conventional panels but have less effect on SunPower panels. Whether it's heat, humidity, corrosion, or physical stress, SunPower is engineered to keep working for over 40 years.
Most Beautiful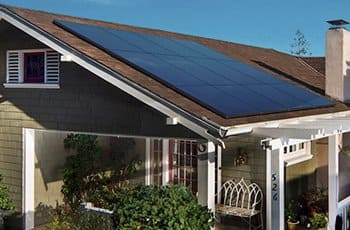 This is a SunPower® system.
Black frames and available 100% black panels for this gorgeous look. We call it Equinox. Our system has 70% fewer visible components. No ugly protruding roof racking; no conduits running around on the top of your roof; no big space-hogging inverter. Read about Equinox here. With solar panels this efficient, you'll need fewer of them to offset 100% of your homes electric usage.
Other systems need lots more space because they are much less efficient than SunPower®. Conventional panels have front-mounted wires, which reduce power and life expectancy. The support racking sticks out from beneath the array. Exposed conduits run hither and thither across the roof and down the walls. A large inverter is needed, hogging space in your garage or basement. Warranties are much shorter and are split among four different vendors.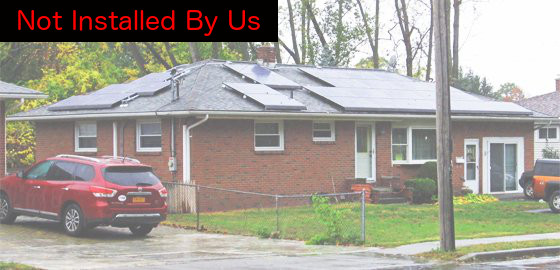 Great Return On Investment
This is perhaps the biggest home improvement project you've done. Would you rather go with the cheapest solution or the best and most rewarding solution? Here are some things to consider:
SunPower® delivers more power now and more power later. For the first 25 years, it will produce 30% more kWh of electricity than a similarly sized conventional system. Ask our salesperson for a production graph.
Longest expected life (40 years vs 25). Most cheap solar panels (even those made by some big factories in China and elsewhere) will be lucky to survive 25 years. SunPower® is expected to last more than 40 years. Ask for our engineering paper on 40-Year Life.
Higher resale value. "Well", you say, "40 years is nice but I will have sold the house by then." Great, because there are usually kids or family that will then own it or even the folks you sell the house to. The better value continues even more so than conventional solar (ask for the Government Resale Study). Do you think that a buyer would prefer to buy a 20-year old cheap solar array that is nearing the end of its life or one which has been built with quality and beauty and will still deliver another 20 years of free electricity? Your house will sell much faster and for more money because of the free power.
25 Year Warranty on Product, Labor, & Power Production
We are one of few that stand by our entire solar system offering a full 3 part (Product, Labor, & Power) warranty for 25 years. We cover not only the Product but also the Servicing Labor and the Power Production.
When others say 25 years it's usually just for the power production alone, also our panels warranty power production at 92%; a considerably higher percentage than typical panels.
Read below why it is no wonder the panels we offer have a much greater warranty and production standard.
Rugged! Down underneath these hundreds of bricks is a SunPower® solar panel, supported only at its ends. With over 3,000 pounds of load, it flexes but is not broken or damaged in any way.
Total integration of all major components (panels, inverters, racking, monitoring) vs a hodgepodge of suppliers who may end up pointing fingers at each other instead of making you the priority.
Monitoring equipment warranted for 10 years; that's 2x to 5x longer than anybody else (and 10x longer than virtually all other electronics warranties such as TV sets and computers).
Solar Panels, Micro-Inverters, and Racking warranted for 25 full years. Nobody else does that; others don't pay for shipping or labor, which will cost you more than a "free" replacement component; and most only pay a pro-rated refund instead of giving you a new solar panel.
American Success Story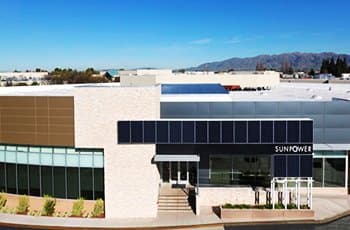 SunPower® has a stable past and secure future that you can count on.
Started by a Stanford University professor in 1985, SunPower® is an American company that has been in San Jose, California, ever since. Thousands of American workers owe their jobs to SunPower® and the company is responsible for hundreds of millions of dollars for goods and services here in the States every year. And it's also grown into a $2.5 billion annual company with worldwide facilities that supply solar to not only residential and commercial customers but also large utilities. Rather than fight with the utilities, SunPower® cooperates with them to develop solar power for millions of customers. In fact, they built one of the world's largest, the 579,000 kW array (for comparison, a moderate home uses 10 kW) in the Southwestern US.
In early 2018, the U.S. administration levied a heavy tariff on most solar companies. SunPower is immune from that. In fact, one of the companies that instigated that tariff (SolarWorld, a German company with a factory in Oregon), went bankrupt. SunPower has purchased the Oregon factory and is ramping up production, giving jobs to hundreds more American workers.
While upstart companies come and go, SunPower® is the recognized quality leader in the industry, has excellent financial strength, is focused strictly on solar, and is committed to many more decades of, as they say, "Helping to change the way our world is powered".
Greener For The Planet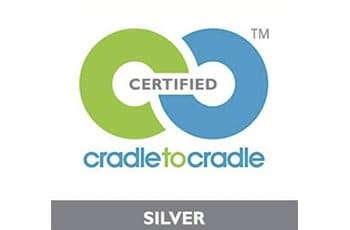 The SunPower® factory that makes our panels is the first and only panel manufacturer to achieve the prestigious rating of Silver Cradle-to-Cradle certification. That means that our factory operation is 99% landfill-free and is recycled instead. At the end of life, our panels are recycled for their glass, aluminum, plastic, silicon and copper. Their "carbon footprint" (how much energy they make vs what it took to make them) is paid back in a record time of only 1.2 years. For more details on our green initiatives, click here.